As you all know, I'm Fluff; leader of Vanilla Wrath. We at Vanilla Wrath have a love of using decks that work with normal monsters, typically ones we are passionate about (I love Science Soldier). I'm going to write a deck guide on how to make your very own normal deck to aid those who have a desire to make one themselves. I'll show you popular normal decks, essential cards to use for every situation, and how to build your very own normal monster deck based around a vanilla of your choice.
11 Popular decks to use that work with normal monsters (because 10 just isn't good enough):
1. Aitsu/Soitsu beater: This is an underrated deck that focuses on the use of two normal monsters named Aitsu and Soitsu who have two union support monsters named Doitsu and Koitsu. If you have Koitsu equips to Aitsu and Doitsu equips to Soitsu. Both of these monsters must be on the field to equip to their counterparts. A good way of getting these monsters out is to use the power of cards such as Celestial Transformation, Photon Lead, and Valhalla, Hall of the Fallen. When equipped, Soitsu gains 2500 attack and Aitsu gains 3000 attack. Combine with the right cards such as Royal Decree and you can easily overpower your opponent.
2. Blue-Eyes/Red-Eyes: More than likely, with all of this new support out, you've seen a Blue-Eyes deck at some point. It's a classic normal monster that is getting a lot of attention, even in today's meta. With all of these new support cards out, though, it also makes it possible to create a deck around another normal dragon of your choice. Cards such as Red-Eyes Black Dragon, Serpent Night Dragon, Tri-Horned Dragon, and many others. I've found personally that with the small support base of Red-Eyes Black Dragon plus the new support for "Blue-Eyes", creating a Red-Eyes deck has really become simple.
3. Dark Magician: While it hasn't received new support like Blue-Eyes recently has, it's still quite a powerful normal monster that is a classic for anyone who really knows the game. There are several variants of Dark Magician that work very well and range from combinations with Prophecy/Spellbook to spam/virus control decks. Considering Dark Magician is a spellcaster, dark, and has 2500 base attack, it gives it a WIDE variety of cards to work with. Even if only summoning back with cards such as Silent Doom just to tribute him for Deck Devastation/Eradicator Epidemic, it works a lot more deadly than you'd think (have you seen Dark Worlds?)
4. Mokey Mokey: Although it's small and doesn't have a lot of support, I've seen people do very well with it. I don't have much experience with these, but here's a video to prove I ain't joking around :s
https://www.youtube.com/watch?v=A4OljJlIyWc
5. Ojama: Used to main them at one point and believe me, they obliterate. There are several variants of Ojama but the most deadly is the Delta Hurricane OTK. When played right, and again preferably with Royal Decree/Trap Stun, it can wipe out everything your opponent has and strike for game with the aid of cards such as The Big March of Animals, Super Polymerization, Thousand Energy, etc. All you really need is 2 of each normal Ojama, 3 Blue, 2 Red, and 3 Super-Nimble Mega Hamster + Baby Raccoon Tantan. Add some Ojama support and the deck can take off from there.
6. Huge Revolution: A rather harder deck to use but I have nonetheless ran it. This deck revolves around the trap Huge Revolution as well as 3 cards required for it to work: People Running About, Oppressed People, and United Resistance. Getting all three on the field is difficult to accomplish (mainly because several cards will work with level 2 or lower monsters while United Resistance is level 3) but once it has been done sends all cards in your opponent's hand and their field to the graveyard. A personal trick I like to play is have a normal tuner on the field while performing this (Flamvell Guard) and then synchro summoning a level 7 or higher monster as a beater. In this case, it can act almost as a Sky Scourge deck but better.
7. Great Moth: YES IT WORKS. Petit Moth is a cute little critter but if you can stall out enough with cards such as Swords of Revealing Light, Threatening Roar, and Waboku, you can have a Great Moth or higher in a number of turns. In a sense, it's like our Aitsu/Soitsu example; a huge beater. WITH WINGS.
8. Sealmaster Meisei: A rarely heard of card that has two support cards that literally lock ALL traps or spells. The continuous spell support card locks traps and the continuous trap locks spells. In order for this to work, you'll need to keep the Sealmaster on the field. Against the right decks, this can essentially cripple someone's strategy especially if their deck focuses heavily on one type of card (Prophecy's reliance on 90% spell cards in deck).
9. Skull Servant: Also has multiple variants to which it can work with. I've found the best version to be Wightsworn. Skull Servant support, typically referred to as Wight cards, take great power in being in the graveyard. The Lady in Wight, Wightmare, Skull Servant, and King of the Skull Servants being in the grave give power to the boss monster : King of the Skull Servants. With the intense milling power of Lightsworn, it's very easy to dump at least 5 Wights to grave, thus making King @ 5k attack.
10. VWXYZ: This type of deck consists of using the classic V-Z cards used by Kaiba and Chazz Princeton in the anime. Seeing that was enough to encourage me to make one way back when. These cards are V-Tiger Jet, W-Wing Catapult, X-Head Cannon, Y-Dragon Head, and Z-Metal Tank. While V can union with W and X can union with Y/Z, you can also remove those cards from the field to summon combined versions of them from the extra deck. The effects typically consist of discarding a card to target a specified card on the field and destroying it. This deck has potential to be powerful, but not likely anymore due to the limiting of Return from the Different Dimension in the January 2014 format.
11. Law of the Normal: Although some people find this card almost impossible to use, I disagree. Using a deck full of level 1-2 normal monsters while having support such as Enchanted Fitting Room, Tri-Wight, and Silent Doom is relatively simple to build. There are multiple other ways to abuse the mass spamming of normal monsters, but I don't have the time to write all of them. This is much like a Sky Scourge deck, just like our Huge Revolution example, and works beautifully once executed. Many people won't see a jacked up Black Rose Dragon bomb coming out of 5 vanillas.
So now you have a good idea of what normal decks are capable of. There are plenty of options that expand far beyond what I've written here. So you're probably wondering to yourself "these decks are nice and everything, but what kind of support do normal monsters really have that can make them not suck?" WELL I'M GLAD YOU ASKED YOU'RE SUCH GOOD READERS HERE TAKE A COOKIE. No seriously, if you asked this you're doing good '-' There are plenty of support cards for normal monsters that to some may even be overpowered. With the lack of threat seen by normal monsters in the eyes of many, Konami can happily make ways to abuse normal monsters to those who can duel with them right. Let's go over a few popular examples I've found to love:
1. Amulet of Ambition: This is typically used with lower level normal monsters to max out the attack boost. Go up against a Blue-Eyes with Mokey Mokey and that Blue-Eyes isn't gonna have a good time.
2. Ancient Rules: This is a great addition for the higher leveled normal monster users. Many people like to use this with Dark Magician, Red-Eyes, Blue-Eyes, etc. Basically a way to make great use of a high leveled vanilla sitting in your hand that can't be summoned/used for draw power w/ Trade-in + Sacred Sword of Seven Stars.
3. Attack of the Cornered Rat: Another attack changer much like Amulet of Ambition but now can work against xyz. You can turn any normal monster of your choice into the strongest monster in battle simply by paying lifepoints until the opposing monster's attack is 0. In lower leveled normal decks, I've found it to be quite a troll.
4. Dark Factory of Mass Production: Although used more so for Herald/Exodia decks, it can still be a double Monster Reincarnation with no cost whatsoever. Instant +1. Combine with Tyrant's Throes (getting to that card soon) and you literally can just tribute your monsters then get them back to your hand.
5. Emissary of the Afterlife: Instant searcher for any level 3 or lower normal monster. This is a great card to use with my Science Soldier deck and whenever I need him to my side, I just get Emissary killed and there ya go. Instant Reinforcement of the Army.
6. Faustian Bargain: Probably one of the most OP cards for normal monsters EVER created. Your opponent has something troublesome on their side of the field? Zenmaines, Gachi, Maestroke, etc? NOT ANYMORE. Not only can you get rid of it, but you can summon a vanilla in it's place. I abuse this so badly.
7. Justi-Break: I love this just as much as I love Faustian Bargain. A Dark Hole that conveniently misses face-up attack position normal monsters. You wouldn't believe how many times I've thrown Science Soldier in attack mode and my opponent walks right into this.
8. Rescue Rabbit: WHY WOULDN'T YOU RUN THIS? Really wish it wasn't limited at the moment, though. Easy xyz, easy Tyrant Throes, easy spam, easy Law of the Normal, easy everything. Almost no drawbacks at all.
9. Silent Doom/Swing of Memories/Silver's Cry: All very great ways of being free Monster Reborns. Each has it's own restriction that makes it slightly less than a Monster Reborn, but if used in the right deck or if you're going to just xyz, then there's almost no harm.
10. Summoner's Art: Not all normal monsters have an instant searcher like Blue-Eyes' White Stone of Legend, but this makes up for it. Using this card and having Ancient rules in your hand is a great way to setup a massive beatstick your opponent may not be able to overcome.
11. Tri-Wight/Enchanted Fitting Room: Another of one of the greatest things to ever happen to normal monsters. If you're running a lower leveled normal deck such as Law of the Normal, this card is a great way to spam the field and setup easy xyz/synchro, etc. I love these cards like children at times.
12. Tyrant's Throes: This card is godly. By tributing 2 normal monsters, which we've seen can be spammed more than easily, you can stop the normal AND special summon of all effect monsters. I've shut down decks on my second turn almost instantly with this card. While this is up, I can keep poking with any normal monsters I please and they're sitting ducks unless they can manage an MST or Blaster.
Well now you've seen a good number of support cards for normal monsters and hopefully realize that they're not as useless as you once thought you were. As asked by plenty of people after seeing my Science Soldier deck, they want advice on how to make their own normal monster deck that focuses on their very own normal monster that they may choose. Some people have a favorite noob monster and would like to make use of it, but don't know where to start. I'll show you how I came to making a good vanilla deck that used the normal monsters I know and love.
Step 1, Find your normal monster that you love like a child: Since I love using Science Soldier so much, we'll use another one of his warrior friends for similar results: Armaill.
Step 2, Find a sidekick: For a lower level normal deck, it's always better to have another normal just like your original so that you can have backup, incase you search all of them with Emissary and then run into Rescue Rabbit. We'll pick Wood Clown.
Step 3, Find support for type, attribute, normal, and level: Find things that work with the normal monsters you picked. Find things that can search them, bring them to field, etc. The more consistent the build the funner it'll be.
Step 4, add staples + consistency power: Add cards to the deck that are common staples and will add more consistency. Try to make a strategy around the deck and go from there. For this build in particular, I find that Skill Drain + Tyrant's Throes would be a good setup, much like my Science Soldier build.
Step 5, test and edit: After a few duels with the deck, make edits to it so that you can customize it to your favor. Add cards that you like, drop ones that don't seem to help you. It's all about having fun.
Hopefully this guide helped people customize their own normal monster decks. Took up about 2 hours of writing all of this but if it helped somebody make a fun vanilla deck, i'm happy. Happy deck making! Here's some random photos to show I'm not making this stuff up about normal monsters being good: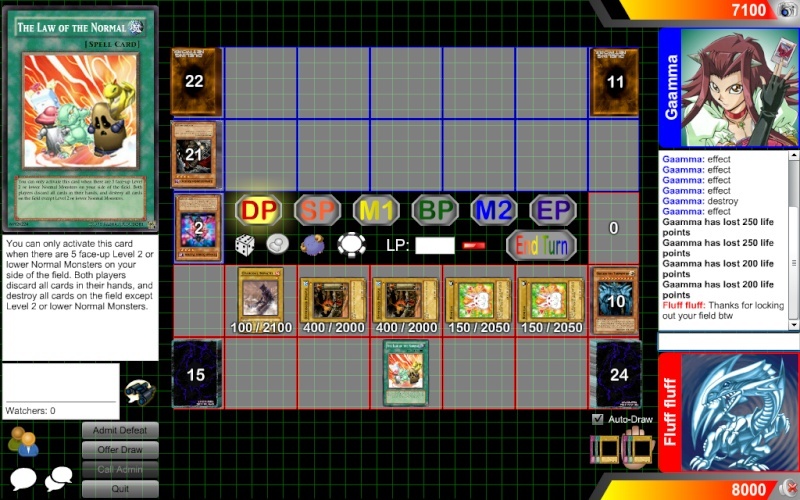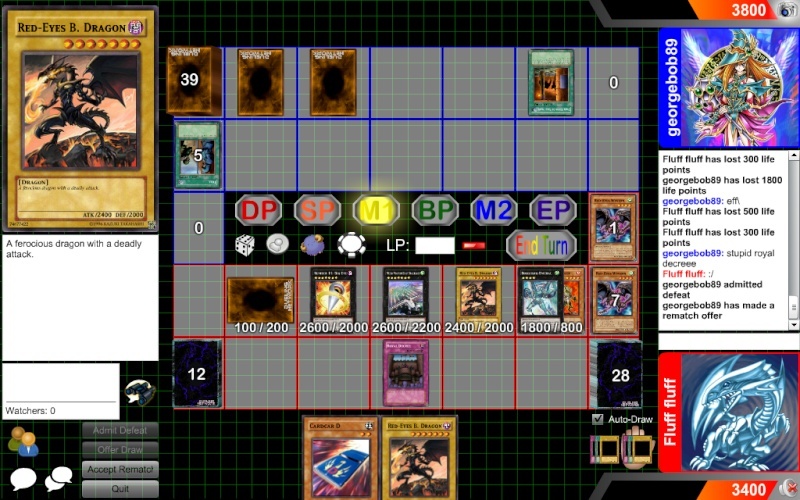 -Fluff
-P.S. I give 'Liquidkillu' permission to post this to their forum.