Out of every anime archtype "Hand" is one i never thought they'd make more support for
Magic Hand
Quote :

When your opponent adds a card(s) from their Deck to their hand, except by drawing them (except during the Damage Step): You can send that card(s) to the Graveyard, and if you do, inflict 800 damage to your opponent. This effect can only be used once while this card is face-up on the field.
this effect is one id really imagine being used against certain decks but this monsters attack makes it so hard to keep it onfield
.
Nearly anything can run over it XD
Prominence Hand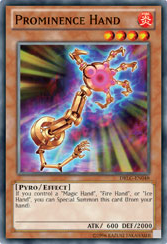 Quote :

If you control a "Magic Hand", "Fire Hand", or "Ice Hand", you can Special Summon this card (from your hand).
this basically makes it an xyz archtype though i kinda wish it had its anime eff.
Outside of fun decks i doubt this one will be used. (Unless they get a searcher)
you can see the other two here
The "Hand" Cxyz made this set of cards about control by itself the rest just assures us that theres some handy new cards for it.
Guest owes me money!
[06:28:59] C.C. : Hero. Muh may be a troll. But the man knowxs damned well how to duel.
[06:29:03] C.C. : Why isn't he in?
[22:24:47 19/04/14] * Superion Maximus bitchslaps all of u
[22:25:11 19/04/14] DarkSoul : That bitchslap echoed throughout all space and summoned Palkia
My favourite images
Official 7th gym leader of the ODA League