Hi, My name is Don Patch. If you have the time, i'd like to bore you with a little something I wrote (Took about 3 hours but I think it's worth it).
Many people have seen this deck before. It has been one of Yugioh's well known cards. (Along with Blue-Eyes.Exodia and Red-Eyes) thanks to the 2nd series of Yugioh. (They consist of a total of 13 cards) However due to certain circumstances these cards have not been used too much. They lack consistency basically. Also their effects sometimes get in the way as well. I think though, that through the combined efforts of everyone we can revive this wonderful deck. How you may ask? By contributing some ideas, we get more and more.  
Lets start shall we?
First off, one of the big problems with this deck is probably the most important  of everything once its out. If you don't know that card is THE BOOK OF POOH! Just kidding

, I mean the Book of Toons commonly referred to as Toon World. This would have been every little kids best friend if it had a better effect. Toon world looks something like this:
It basically makes you lose 1000 lifepoints, which if you use late game could end up killing ya. Not to mention every toon monster depends on this card once it's out on the field. You can't forget it too easy though, because in order to summon the higher class Toons (Ill explain those later) you need to have this card on field. Since Mystical Space Typhoon is a thing, its not quite as easy as it sounds. I think our first objective should be to keep it on field. If you use only Class C Toons (I have never seen it done before, but it's possible) than this card is little help to you. Forbidden lance helps a lot in this case.)
Alright, Next It's the monsters (Yes I mean the Toons). But before that I must explain what different class toons are. Toons like people have classes (Except Toon Alligator, but I don't count him as a Toon.). They are ranked A,B,and C. You may ask, why does this matter? Aren't all Toons the same? Well, they aren't. With each class they have a slightly different effect. There are 2 that stay constant however. They are "If Toon World on the field is destroyed, destroy this card." and "While you control "Toon World" and your opponent controls no Toon Monsters, this card can attack your opponent directly." (That's 1 reason why Toon World is very important in this deck. Direct attacks with some toons cause serious damage.)
Class C Toons look something like this: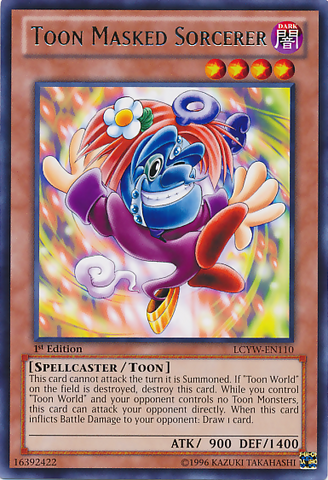 They cannot attack the first turn they are summoned. This means you can summon them without the need for Toon World. Which has proven to help the deck very much. It gives tributes for the higher leveled Toons, and you can xyz with them. There are currently 4 Class C Toons (Toon Goblin Attack Force, Toon Masked Sorcerer, Toon Gemini Elf, and Toon Cannon Soldier.) 2 of these have pretty low attack power ( Toon Cannon Soldier who has 1400 and Masked Sorcerer who has 900) which kill some of their offense, but even the highest ATK monster (Toon Goblin Attack Force with a whopping 2300 ATK) still has a downside because of it's effect. The most useful would happen to be Toon Gemini Elf (However you can't use more than 3, it has 1900 ATK plus it can discard a random card from your opponents hand.)
Alright, next up is the Class B Toon (Notice how I didn't add a S. This will be a short one). There is sadly only 1 Class B toon. The Class B Toon can attack the same turn it's Summoned, unlike every other toon who has to wait. It also can't be Normal Summoned/Set, and requires a tribute to summon (Normally). It also requires Toon World to be out to be Summoned.
The Class B Toon looks (Like I said there is only 1) like this: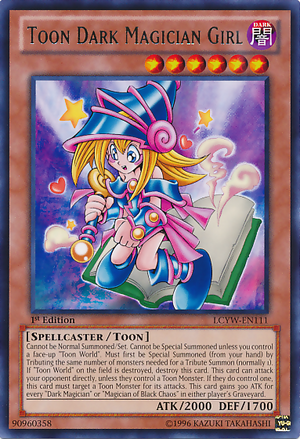 She is probably the easiest Toon to use due to that one effect (Attacking the same turn of the Summon). Which gives you the opportunity to attack at least once before something happens to her.
Lastly, there is the Class A Toons. These are the hardest ones to summon. They have a ton of  additional effects with them. They can't attack the first turn they are summoned (Like most toons), They require you to pay 500 Life points to  declare an attack, and they need Toon World on field to be summoned (Cant be Normal summoned/set.) They look like this: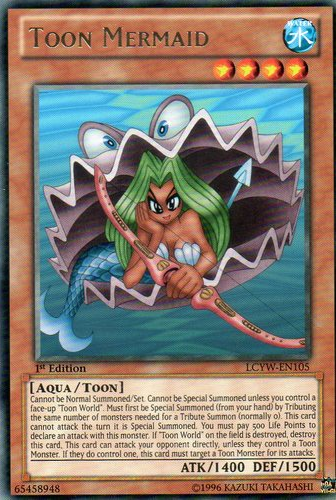 They are some of the HARDEST Toons to come by. Blue Eyes Toon Dragon (The most seen toon ever) is mostly seen in exodia (Which, if I may add is just pitiful). The easiest to summon is Toon Mermaid, the rest are over level 5. There are currently 4 Class A Toons (Toon Summoned Skull, Toon Mermaid, Manga Ryu-Ran, and Blue-Eyes Toon Dragon.) Manga Ryu Ran doesn't have Toon in his name, but he is part toon, and can be searched from the Toon Spell card (Toon Table of Contents.)
To finish this off (Cause I feel like you would be bored after all of this), Ill point out some things that can hurt this deck. First off, this deck has little to no draw power, so you depend on the Toon Table of Contents which looks like this: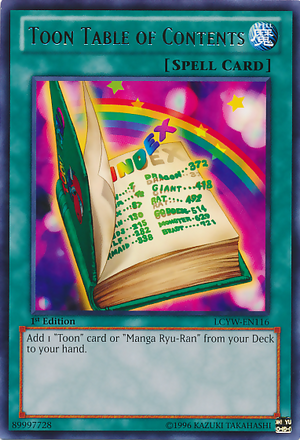 They can be used more than once per turn, and search just about any Toon Card (Even Toon Alligator, Toon Defence, and of course Toon World.) Using all of these too quickly lead to your search power being kaput. There is also that small problem of Toon World being destroyed. Plus, about 5/10 times you will only draw the high leveled Toons or only spells. This deck is normally not trap heavy so if you lose your whole field and hand, you may pretty much lose. 99% of Toons can't attack the first turn they are summoned (Except Toon Dark Magician Girl) which means if your opponent decides to do something to them (Dark Hole, Mind Control, Maybe even Black Rose Dragon.) you wouldn't have gotten at least some damage. Also not attacking is bad because leaving their monsters out for too long gives them the ability to make plays easier. 1 turn can be the difference between victory and defeat. And the only Toon trap known as Toon Defense, which looks like this:
It only protects the level 4 or lower toons from battle. It makes sure you pay quite a price to keep them though. If your opponent has a full field of monsters with over 2000 ATK, you're better off letting your monster die (That's a ton of damage to take for just a couple of monsters.) Which is why this card is very bad.
Overall, I don't believe this deck is completely useless. It appears to have great potential in summoning. Plus it appears to do a ton of damage in little time. With your help it can be one of those decks that DN noobs run away from

.
(I'm no Yugioh Expert, but I think I got some good points.)